Army/Navy game holds a long history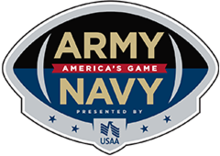 On Saturday, December 8, Army defeated Navy 17-10 in the annual meeting between football's teams from the two branches of our armed forces. This marks the third year in a row in which Army has won the Commander-in-Chief's trophy, however they still trail in the all-time series by eight games.
While today this annual game is viewed as just another college football rivalry, there is an extensive history behind it leading back before the NCAA or NFL even existed. Since 1890, there have been 119 games played which include 60 Navy victories, 52 Army victories, and seven draws.
The very first game took place on Nov. 29, 1890, and was played on "The Plane" at West Point. The Navy had been playing organized football for 11 seasons at this point, and were able to take a 24-0 victory. Since then, there have only been ten seasons where the two teams did not play each other.
The longest interruption between the traditional games came between 1894 and 1898, but no one is certain as to why. It is speculated that an argument between an Army general and a Navy admiral which nearly ended in a duel caused the cancelation for the four years. However there is no proof this is the exact reason why the teams did not meet.
America's Game has also been a part of football history on the professional level. In 1926, the game was held in Chicago for the formal dedication of Soldier Field. Now home to the Chicago Bears, the 62 thousand capacity stadium serves as a constant reminder to fans of the men and women who serve and protect our country.
In pop culture, the Army-Navy game appeared in the form of radio highlights during a 1973 of the show "M*A*S*H" which now has fans and conspiracy theorists going wild. The announcer claimed the fictitious game was the 53rd meeting of the teams had ended in a victory for the Navy, with a score of 42-36. To this date, no Army-Navy Game has ever ended with that score, and the real 53rd game was in 1952 when Navy won 7-0.
The Army-Navy Game will be coming to Metlife Stadium in 2021. With the extensive history the game already has, no one could possibly predict what will happen when the game comes to East Rutherford, New Jersey.