Review: Olivia Rodrigo's "Sour"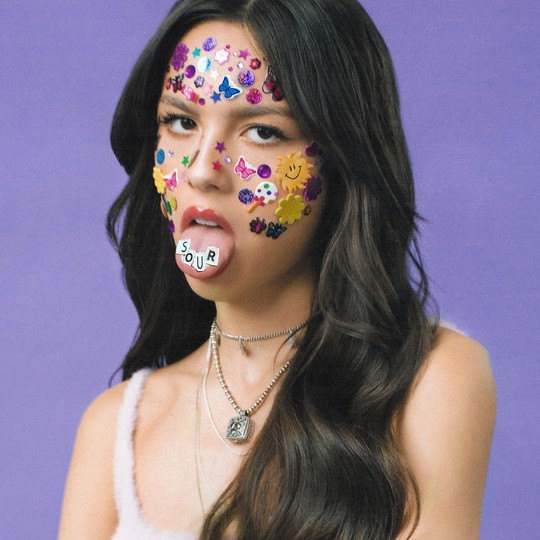 Olivia Rodrigo released her highly anticipated debut album, "Sour," in May of this year. After her record-breaking single, "drivers license," and her other releases, "deja vu" and "good 4 u," many eyes were on her to continue the superstar momentum with "Sour." Thousands of fans stayed up late on the night of its release to listen to the album the second it was available at midnight. "Sour" garnered 385 million streams on global Spotify in the first week. This was the biggest opening week for an album by a female artist on the entire platform, beating the former record set by Ariana Grande's "Thank U, Next" in 2019. 
The album consists of 35 minutes with 11 songs, 8 of them being breakup-anthems. The name of the album, "Sour," correctly explains the main theme of the album with Rodrigo being quite bitter after the breakups her songs are written about. There are songs of heartbreak like "traitor", "drivers license", "enough for you." There are songs about moving on such as "happier" and "favorite crime." There are also songs fueled by anger such as "good 4 u." Some fans speculate her next album will be called "Sweet" as a juxtaposition to her bitter tone. She will follow with a "Sweet and Sour Tour" which perfectly links with her partnership with the sweet and sour candy, Sour Patch Kids. However, this is nothing but a popular fan theory. 
She begins the album with "brutal." A chaotic pop-rock song that speaks on her insecurities and life as a teenage girl in the spotlight. Similar to the sound of "good 4 u," a previously single on the album, it uses string guitar sounds as she quite violently screams about how brutal life can be. The song starts with a voice memo of Rodrigo saying "I want it to be like messy" which she achieves with "brutal." 
She follows this with the song, "traitor." A fan favorite that explains being betrayed by an ex-lover. Rodrigo opens up about this unnamed person, telling her that another girl was just a friend but then dating that girl after he and Rodrigo broke up. In the chorus she sums up her experience in this relationship, "It took you two weeks/ To go off and date her/ Guess you didn't cheat/ But you're still a traitor." Similar to driver's license, fans speculate this song is about Joshua Bassett, her previous boyfriend and co-star in Highschool Musical: The Musical: The Series. "traitor" is the fourth most-streamed song on the album with 28.2 million streams on Spotify. 
She follows "traitor" with her smash hit, driver's license. "Drivers license" is the song that put Olivia Rodrigo in the public spotlight. This is another song speculated to be about Joshua Bassett. Rodrigo goes as far as writing, "And you're probably with that blonde girl/ Who always made me doubt/ She's so much older than me/ She's everything I'm insecure about." Fans believe the blonde girl in the song is referring to Joshua Basset's current alleged girlfriend, Sabrina Carpenter. Carpenter is blonde and 4 years older than Rodrigo. Sabrina Carpenter is 22 years old, while Rodrigo is 18 years old. This song also speaks about betrayal and heartbreak. 
There are also songs that more softly and vulnerably speak on what her emotions were during the relationship such as "1 step forward, 3 steps back." The song's instrumental is sampled with Taylor Swift's New Years Day from her 1989 album. This excited many listeners due to Rodrigo's open fangirling of everything-Taylor Swift. She continues this vulnerability with "enough for you." In complete opposition to songs such as "traitor," which openly condemned her ex-lover, Rodrigo includes songs like "happier" and "favorite crime" which provide bitter-sweet commentary on her past relationship. In "happier" she writes, "She's so pretty/ Does she mean you forgot about me/ Oh, I hope you're happy/ But not like how you were with me." She continues she bordering-toxic sending off of the relationship with "favorite crime", "The things I did/ Just so I could call you mine/ The things you did/ Well I hope I was your favorite crime"
Rodrigo chooses to end the album with one of the few songs that did not have to do with heartbreak. The finale, "hope ur ok," reminisces about Rodrigo's past friendships from her childhood. This is an unexpected end, however, it is an enjoyable song similar to the sound of "The Story" from Conan Gray's album, Kid Krow, released in 2020. After putting fans through aggressive songs rejecting society, heartbreak anthems you can cry to at 3 a.m., and sweet songs wishing her ex-lover the best, "hope ur ok" is the sweet final note to Olivia Rodrigo's album, Sour.