Westwood Cardinal football team reaches state championship game
Students, staff, community excited for another MetLife opportunity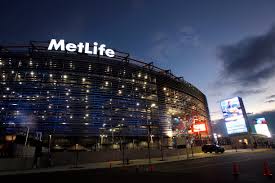 Westwood Regional Jr./Sr. High School, already known for its tremendous amount of school spirit and enthusiasm, is preparing for the biggest football game of the year. After a thrilling season, the Westwood Cardinal football team will lead the cheerleaders, band, students, staff, and community members to MetLife Stadium on Dec. 4 at 4 p.m. Not only is this a state championship game, but it is also a game between two long-time rival schools, Mahwah and Westwood. The entire Westwood community is prepared to build on the Westwood legacy with its third State Football Championship title in four years.
WHS is providing its students with the option to ride a "fan bus" to MetLife Stadium, giving every student the opportunity to attend.  For $5, any student can meet at the school at 2 pm to get a ride to and from the game.  Money was due on Dec. 1. Tickets to the game cost $3 and if you missed the opportunity for the fan bus, you can still go on your own for the game, starting at 4 p.m.
Principal of Westwood High School, Frank Connelly, expressed his excitement of being principal during such a memorable time. He said, "Anytime that I see any of our teams or kids find success it is very exciting, especially when it rolls over to the school and community." Connelly attended Westwood's game at MetLife Stadium two years ago and says that the atmosphere of being there again is what he is most excited for. With Westwood being such a closely knit community, many townspeople are looking forward to attending the game "even if they don't have kids on the team," Connelly said.
This football season went as well as fans and students could've hoped, which is something everyone is very excited about. Julia Pampin, Senior Cheerleader, said, "I am most excited to be able to perform one last time with my team and end my career at this school with such an exciting game."
Pampin's teammate and co-captain, Natalie Dahdah agreed saying, "It's been a great experience supporting our football team, cheering alongside our talented school band and most of all, being a part of such a special Westwood community."
The Westwood Cheerleaders are preparing for the most important game of the season by making run through banners for the football players, posters for the players' homes and locker room, and decorations for the Westwood High School hallways. It is clear that each and every person involved in this experience is giving it their all. Before the big day, Connelly has a message for the band, the cheerleaders, the football team, the student body and staff: "Listen, win or lose, thank you, everyone, for your support. Our football team, our cheerleaders, and our band. We are all obviously hoping for a victory, but either way I am very proud of everybody."