Faculty vs. Students basketball game held at Westwood
The Junior Class sponsored a faculty/student basketball game on Thursday, March 17. The result was a narrow victory for the Westwood staff, with a score of 42-41. Faculty members from all departments battled students ranging from freshmen to seniors.
The phys ed teacher line up included gym all-stars Andrew Camporeale, Dan Rattacasa, Kari Bell and rookies Joseph Ortiz and Robert Glander. The crowd also got to see a few members of the English squad play: Elizabeth Farrell and Katherine Ondrof, with their dedicated fans Ryan McGuirk and Casey Kauffman carrying Eileen Nagle and Farrell's giant fat head pictures.  Farrell said, "I feel fantastic even though I did almost nothing."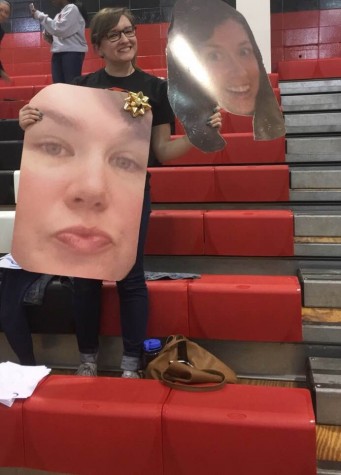 Also, don't be fooled by Peter Richter's librarian ways, he also showed off some sick moves on the court, sporting some black high top Converse. Westwood Lady Cards basketball coach Charles Collis also re-lived his high school days by proving to be an aggressive opponent.
After a raucous battle, Rattacasa said, "The teachers are veterans and have a lot of experience, they played smart and with poise and the strategy worked for 90% of the time. It's always good to be a kid on the basketball court as a teacher."