"Kourtney and Kim Take Miami" Season Premiere ReKap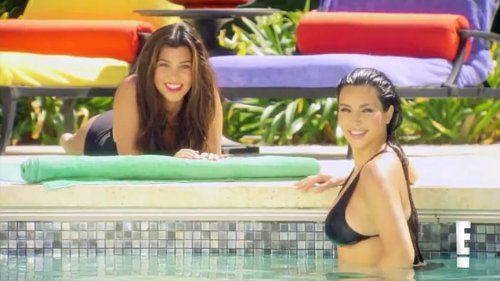 Everyone's favorite reality family (or maybe just mine) is back on E! If the two-part premiere of "Kourtney and Kim Take Miami" is any indication of episodes to come, the show is jam-packed with all the drama and comedic relief that we have learned to expect from the Kardashians in seasons past.
Part One: "Welcome Back to Miami"
Kardashian sisters Kourtney, Kim, and Khloe arrive in Florida with plans to "revamp" the Miami branch of their store Dash. Khloe admits that she will be moving back and forth between Miami and her husband, Lamar Odom, which I guess is why her name doesn't make it to the show title.
The trio arrives with Kourt's two kids, three-year-old Mason and newborn Penelope, in tow. As one would expect, Kourtney is completely overwhelmed and the absence of her boyfriend, Scott Disick, is conspicuous. She insists that she told Scott not to come with her to Miami because it is a "dark place" in their relationship. Regardless of Scott's past behavior, Kourtney is clearly biting off more than she can chew and it's fairly obvious from their first five minutes in Miami that this plan isn't going to work well.
For the first time since "Kourtney and Kim Take NewYork" aired in 2011—a season that documented the start and end of Kim's marriage to basketball player Kris Humphries—Kim's divorce is addressed as more than a passing comment when Khloe pokes fun at Humphries for being stubborn by not signing divorce papers. That's right—Kim is technically still a married woman, because her husband wants an annulment. Still. A year and a half later. Because his life wouldn't be easier if he just moved on.
But Kim brushes off her divorce problems as no big deal. After all, she is dating Kanye West. Because he can't be with her in person, Yeezy sends Kim an adorable white kitten, because we all know that pets make great housewarming gifts and are perfect for people who are constantly on the go. On Kanye's suggestion, Kim decides to name the cat Mercy. As in, the name of Kanye's hit song. It's events like this that really remind me how much Kim and Kanye's egos are made for each other.
Meanwhile, because it would only be right to talk about Dash for at least five minutes before moving on to other things, the sisters discover that their store has seen happier days. After Kim stops her sisters from firing the entire staff on the spot, everyone settles down and they decide to reorganize, eventually agreeing that the space is too small, and the store should be moved to a different location.
Because Kourtney is still overwhelmed—and why wouldn't she be?—Kim goes behind her back and calls up Scott, telling him that he needs to come to Miami, stat. He shows up looking unshaven and scruffy—far from his usual dapper self—and he's almost unrecognizable when he walks through the door. Predictably, Kourtney is unhappy to see him. Actually, "appalled" might have been the word she used. But Scott isn't about to miss the milestones of his kids' lives, and he promises to make that his focus. Everyone who isn't Kourtney approves.
Those familiar with the Kardashian clan already know Jonathan Cheban, Kim's best friend from New York. Oh so conveniently, Jonathan has a house in Miami, so Khloe enlists him on Operation  Make Kim Express Feelings About Humphries. He isn't subtle at all, and only succeeds in making Kim angry at Khloe. Kim insists that she only wants to channel positive energy. Solving anger management Khloe's way is still tons of fun, though, and the sisters break plates on their balcony to release stress, with a "YOLO" shout-out, because it's okay to break hotel dishes as long as you only live once.
Because they did almost traumatize their entire staff, Kim and Khloe have a "no hard feelings" party at their apartment, while Scott and Kourtney try to be parents in the next room. It's a hard task to accomplish when your in-laws keep waking up your kids, so Scott offers to drive Kim and Khloe elsewhere just so that they leave the hotel. Unfortunately, the girls have no desire of settling down anytime soon; Scott eventually gives up and calls in Jonathan for backup so that he can go home to his family. It's not a bad idea, but he still gets scolded by Kourtney for coming home late because when all else fails, It's Always Scott's Fault.
The next morning, Kim can't even remember what happened—or what she did with Mercy, who is nowhere to be found. Khloe, likewise, is no help, and the girls have to resort to looking through photos on Kim's phone to realize that the cat is safe at Jonathan's apartment. Why Mercy was with them in the first place is a question that may not come with an answer.
Khloe confronts Kourt about how she's treating Scott, trying to get her to realize that Kourtney needs to believe in Scott so "he can believe in himself." Kourtney is forced to concede that Scott actually has been amazing during his time in Miami, so she surprises him by having his Rolls Royce shipped in from California. While that isn't my ideal sign of appreciation, Scott is so happy that he declares "Lord Disick is back"—a reference to the time he went to London and made himself a Lord (true story). Scott shaves and starts dressing in actual clothes again, and we just know that if Lord Disick is in the building, things are going to get a lot more interesting from here on out.
Part Two: "Secrets"
The second part of the "Kardashian" premiere is pretty amusing to those who keep up with entertainment news and who already know that Kim Kardashian is currently pregnant. The great irony, of course, is that during the filming of the show, Kim goes to the doctor and discovers that, despite being only 31 years old, her reproductive system is the equivalent of a woman in her 50s.
Meanwhile, because real life isn't always going to be filled with camera-worthy drama, Khloe notices that Kourtney smells bad—or at least, has a lingering odor of some kind—and Scott confirms that it is because she refuses to wear deodorant when breast feeding. Though it is impossible to tell through a TV screen just how bad this scent is, it is apparently bad enough to warrant subtle comments, but not so bad as to confront Kourtney about it outright.
Scott, in any case, has more important things on his mind. He makes a new friend, Chapman Ducote, who is basically Scott in another form, and who happens to race cars as a hobby. This is perfect, because Scott has apparently always had a deep desire to participate in motor sports, even though Kourtney thinks that the racing is far too dangerous for the father of her children to partake in. So while Scott insists that racing has plenty of built in precautions to prevent him from dying—always good to avoid the worst-case scenario—Kourtney forbids him from trying it.
Kim thinks that motherhood has turned Kourtney into a disheveled wreck, because, you know, taking care of another human isn't exhausting at all. Kim starts second guessing whether she wants kids altogether, which is actually shocking considering how much she talks about the subject. Jonathan, loyal friend that he is, thinks that Kim would be a fantastic mom.
Remember 30 seconds ago, when Kourtney forbade Scott from racing? Well, as far as Scott is concerned, that conversation never took place; Chapman hooks him up with a car and personalized Lord Disick helmet. At first, Scott is overwhelmed by the fact that racing is more complicated than just driving around a circle, but he goes for a spin anyway and has a great time.  He lies to Kourtney about it, but Khloe sees right past his story and tries to convince him to tell the truth before it comes out another way.
Kim continues making negative comments about Kourtney's post-baby body and apparent lack of effort in styling herself. She doesn't seem to understand that mothers actually enjoy spending time with their children, and wants her sister to go out more. Kourtney doesn't take the criticism well; they end up having a blowout fight in a parking lot and end at a standoff. Later, Khloe confronts Kim and finds out that Kim is depressed because it might be too late for her to have kids, and this is the reason why she has been acting out towards Kourtney. See, kids: who said that Freud is irrelevant?
While looking at potential new spaces for Dash—you know, the reason why they're in Miami in the first place—Khloe comments that the heat only makes Kourt's body odor worse. Later, when they go for massages, Kourtney catches Khloe briefing the masseuses about how bad she smells. Kourtney handles it fairly well, all things considered, and the sisters agree to be upfront with each other about such issues in the future. Hopefully they follow up on this promise, so we viewers can enjoy an actual plotline next time.
We all knew it was bound to happen at some point, and sure enough, Scott had a crash while racing, prompting Chapman's wife, M.K., to call Kourtney from the hospital. For once, Kourtney is justified in freaking out, because for all she knows, Scott is seriously hurt. As it turns out, Scott is fine, but the couple fights about it anyway because no "Kardashian" episode is complete if Kourtney is not accusing Scott of something, even if he does deserve to be called a liar in this case. However, they prove just how well good ol' fashioned communication works; they talk out their issues and Kourtney agrees that Scott can race if it makes him happy, as long as he still puts family first.
So that all the loose ends are tied up in one big, heartwarming package, Kim takes Kourt out to eat and apologizes for insulting her. It's pretty obvious that Kim really wants to be a mom—which is a relief, considering she's now expecting. Kourtney accepts her apology, and the episode ends with everyone getting along, a feeling that will probably disappear as soon as the next episode airs this Sunday. But hey, we can enjoy it while it lasts.