The Class of 2017 Loves Obra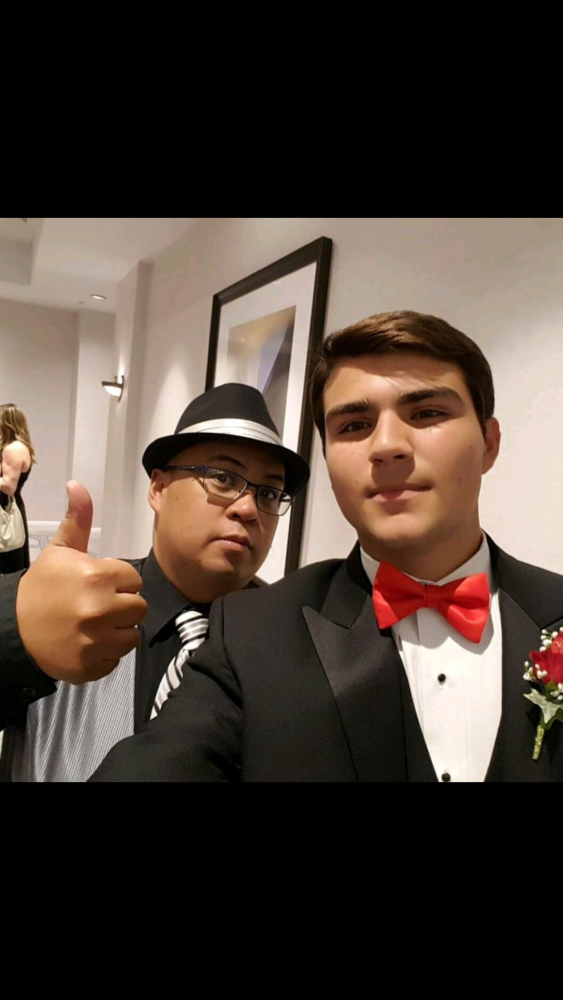 Hanging prominently next to the main office in Westwood Regional High School is a 4×4 portrait of the culprit behind the mouth-watering aromas that growl the bellies of every student and staff member in the building.
Rusty Obra, culinary teacher of five years, is beloved not only for making the school consistently smell delicious, but for developing an environment where students can learn life skills all while having fun. It is this quality that led the graduating class of 2017 to dedicate the yearbook to him.
Obra became a whiz in the kitchen after attending the French Culinary Institute in 1999. After six months of intense work, he graduated and began his 13-year career as a general line and sous chef in a total of seven different restaurants.
Admittedly, Obra did not have a deep passion for food before attending culinary school. In fact, he first went to school for opera singing as he was extremely passionate about music all throughout high school. However, after finishing school he felt his future was not as promising as he had hoped, "If I didn't make it into music what was I gonna do? I always cooked with my mom growing up and I figured the restaurant industry was always going to be in demand. It's a trade that will never go away," said Obra.
While working in the restaurant industry was rewarding, Obra felt the toll it was taking on his personal life and saw the teaching job at Westwood as the perfect opportunity to continue his passion without sacrificing time with his family.
Though he never imagined himself becoming a teacher, Obra said, "Do I like working with kids? Hmmmm, honestly yes and no. You get the kids who are just here to pass and don't show any interest in the class, but then you get the kids who fall in love with the art and it's awesome to share my passion while teaching it. Regardless of who loves my class and who doesn't, I enjoy teaching and that's all that matters."
Among the students who have found their passion for food in Obra's class is Senior Kyara Martinez. "He doesn't take himself too seriously, which makes him one of the easiest teachers to talk to. Also, he feeds me everyday," said Martinez.
Despite the overwhelming number of students who seems to share the same feelings for him, Obra can't figure out why the yearbook was dedicated to him. "When Ms. Rudin called to tell me the seniors picked me, I thought she was joking. I only see about half the senior class, I'm just the cooking teacher. I never thought I'd get that honor," said Obra.
Obra is known by everyone for his easy going versatility as renovations on the new cooking room ran a little late and forced him to carry out his classes in the cafeteria until December. Revamped history rooms serve as Obra's new sanctuary where he orchestrates the magic on five burner gas stoves, cooking equipment and an central island cooking station where he gives his lessons.
Though the thought of a one-day Obra-less Westwood is a thought hard to bear, one of Obra's biggest life goals is to eventually open his own coffee shop. "I can't see myself going back into the business as a chef full time but I'd love to open my own coffee shop one day," said Obra.
Obra joked that he would like to clarify that he will not be attending prom weekend in a food truck, despite many requests. But more importantly, he is thankful to the Class of 2017 for the honor of the dedication of the yearbook.