Factors to consider when choosing your college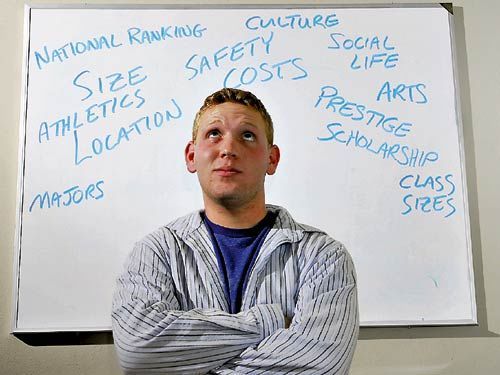 That time of the year is rapidly approaching, to select the college you will attend to for the next four years. Finding the right college is not easy, and can become very stressful and scary. This decision can have a large effect on your future. There are such a wide range of things to consider when looking at schools, here are a few listed for you that hopefully make the selection process a bit easier!
Location
Do you want to go far? Or stay near home? Or be somewhere in the middle? Finding out how far away from home you want to be is a key factor in choosing the right school. You have to consider things like, if airplane and long distance travel is okay with you, or if you want to be able to come home on the weekends.
Fees
Think about going to an out-of-state college, the prices will be higher; if you stay in your home state, the prices will be lower. Private schools and public schools also have an affect on the cost, as well as scholarships and financial aid. Another issue regarding fees is that students will find it is much cheaper to commute to school, rather than to live on campus and pay for room and board. At the same time, if you absolutely love a school, do not let the money of it all dictate that you cannot go there.  
Size of Class/College
If you are a sociable person and like learning in a large setting, going for the bigger schools might be something to look into. If you do not mind not knowing a lot of people you go to school with, a large school may be the right choice. If you like learning in a smaller classroom and want to know your professors on a name to name basis, a smaller college might be the right choice. A smaller college would also give you the opportunity to be familiar with plenty of faces around campus.
Sports
If you are interested in playing a sport for college or are looking for a scholarship, visit the school and meet with the coach, or email them if they are unavailable. Find out what they are looking for in their incoming athletes. The more you show interest, the better of a chance they will consider you for a scholarship. Some coaches come to tournaments so they can hunt for new players at their school. Make sure to always do your best and keep a positive attitude during games, because you never know who could be scouting you.
ACT/SAT
These test are usually a challenge for most. That is why you should always focus, and try your best. Some students even hire a tutor or take classes for them. Although, some colleges now are test optional, it is still a good idea to take at least one so you have something for them to look at. Advice from some of the some of the faculty at Westwood High School is no matter what, you will find a college to go to even if you do poorly. Jenn Gadaleta, a guidance counselor at Westwood Regional Jr./Sr. High School said, "Figuring out which test fits you best is the biggest thing you can do for yourself in this process."
Clubs
Some colleges have plenty of clubs for you to join if interested. If you do join a club, make sure it's something you really enjoy and care about. Don't just pick one because you feel like you have to or are being forced to do it. "Just putting yourself out there, you know? College is the kind of thing where you're really experiencing everything new, so just have fun with it," said Gadaleta.
Roommates
Choosing a roommate might be one of the scariest factors of college. If you get stuck with a roommate that is the total opposite of you, it could make the college experience a lot harder. If colleges offer online programs where you can meet roommates and talk to people, try it out! Start talking to random people and see who you have a lot in common with. If you chose the right roommate, they can become a longlife best friend.
If you follow these guidelines your first year in college is going to be a success. Remember to keep a positive attitude and do not stress out over college too much because it will only make the situation worse, everything will workout and fall into place! College is an awesome experience and can really help you to grow and learn a lot about yourself.