My Italian Summer
Westwood senior completes exchange program
I think my desire to travel first came about when I saw "The Lizzie McGuire Movie" in kindergarten. Lizzie flew all the way to Rome and ended up having the trip of a lifetime when she was mistaken for an Italian popstar. If Lizzie could have a superstar doppelganger, then why couldn't I?
I was 15 years old when I first learned about the Rotary International exchange program. My friend, Camille, was 17, and about to leave to spend her senior year in Alsace-Lorraine, France. As soon as she told me her plans, I knew I wanted to do the same.
A year-and-a-half, plenty of begging, and two powerpoints later, my parents finally, albeit reluctantly, agreed to let me apply for the exchange. I had two options: short term or long term. The short-term program matches you up with another kid about your age. They live with you for anywhere from 3 to 6 weeks, then you fly back with them to live with their family. The long-term exchange, however, places you in another country for an entire school year. You attend the same school during those 10-or-so months, but you must switch host families at least twice. I chose the former, and Camille chose the latter. My thought process at the time was that skipping junior or senior year would give me a major case of FOMO. It wasn't until I went to orientation that I first realized I was missing out. And do you want to know what made me jealous enough of all the kids scheduled to go out for the long term to question my own decision? Their jackets. Every time a long term student attends an event and meets other exchange students, they swap pins, badges or other memorabilia and stick it on their jackets. It's literally impossible to describe how cool they are. But after I got over the blazers, and experienced everything for myself, I realized that I made the right decision.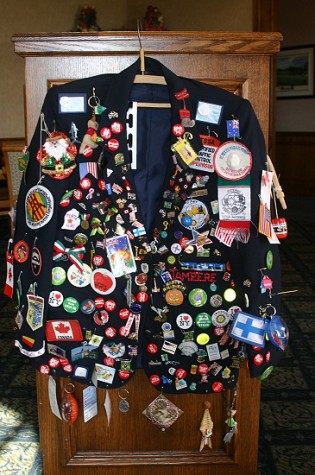 It took a long time to learn where I would stay. The application process was tedious. Do I drink? Do I smoke? Am I a vegetarian? Would I be open to living with a family who practiced a different religion than me? What's my town like? It took me ages to finish, and even longer to decide where I wanted to live. I was given a sheet listing more than 25 countries. I figured I should go somewhere that I could practice the French I'd learned in school. However, at this time, there had been several recent terror attacks in France and Belgium, so my mom made sure those were no-no's. I ended up choosing Switzerland, England, and Iceland, in that order (a strange mix, I know).
I was matched with a girl named Emanuelle from a town called Fribourg, Switzerland, and I was over the moon. I looked up all of the cool stuff to do in and around Fribourg, and I was crushed when I learned that she withdrew from the program. It was April and I was beginning to freak out. My exchange would begin in a little over two months and I had no idea where I'd be living. I was given three suggestions by the Rotarians in charge: Germany, France, and Italy. My mom had already established that France was out of the question. My uncle tried to convince me to go to Germany because he had worked there for several years. I ultimately chose Italy because I figured that even if I ended up in the most boring town with the worst family I could always rely on at least one thing being excellent: the food.
I remember the first day I learned I was matched. I was in school on a Saturday morning (ugh) for a mock AP English exam. I survived the multiple choice section and checked my email during our 10-minute break. There was a message from the director of the exchange saying "Congrats, Rachel! You've been successfully matched with Adriana Borsellino from Sicily." I may have screamed. I told everyone in my class, and I was almost too excited to finish the rest of my test. A few days later, my family Skyped hers. We figured out on which day she would arrive in America, and which day we would fly back to Italy together. The next month or so dragged on as I anxiously awaited her arrival.
My dad and I picked her up from JFK International Airport on the last day of school, and I managed to drag my jetlagged new friend to graduation. She thought it was cool, but she was disappointed that there was much less singing than in "High School Musical" (me too). For the next month my family and I brought her all over the Northeast. We went to New York City on her third day in America. Her two favorite words to describe it were "big" and "loud." We went to Vermont and the Jersey Shore and a baseball game and to see fireworks on the 4th of July. We spent each Monday night watching the latest episodes of MTV's "Teen Wolf." I introduced her to the incredible world of American cinematography by showing her masterpieces like "21 Jump Street" and "Blades of Glory." Even though I was having a great time with her in America, I couldn't wait to fly to Italy. It was the first time I'd ever been outside of the country without my parents, and my first time ever in Europe.
When we finally arrived, I was greeted by an overwhelming amount of culture shock. As we drove back from the airport to my new home, Adriana's dad explained in his very broken English, "Look! These are the blockades we used to keep out Americans during World War II." That wasn't exactly the warm welcome I was expecting.
Prior to leaving the U.S., everyone told me that Europeans are great at speaking English. I'm not so sure that trend has spread to Sicily just yet. And just in case you're a little shaky on your European geography: if Italy is the boot, Sicily is the rock getting kicked. Then, if you know your Mediterranean geography, you'll know that Sicily is so far south that it's significantly closer to Africa than to Switzerland. That means it's very, very, very hot. To make this even better, air conditioning is essentially non-existent. It took me most of this trip to adapt to this because my body was not made to survive the heat, which is why my hair was pulled back into a ponytail nearly every single day. Seriously, it's so hot and dry there that things just burst into flames sometimes.
I was amazed by two things: how old everything was, and how stereotypically Italian everything was. The architecture was gorgeous. We saw the remains of temples built over a thousand years ago to honor the Greek Gods. We walked through an ancient Roman villa. We visited a village on top of a mountain that could've given Medieval Times a run for its money. And so many things were exactly as I'd seen on tv and in movies. Everybody drives Vespas. Grandmas always force you to eat more even after you've cried uncle and exclaimed, "Sono piena, Nonna!" (I'm full, Grandma). And everyone talks so loud. Since I speak very poor Italian, it was usually difficult for me to decipher if the people around me were having a casual conversation, or if they were arguing.
The language barrier was a huge concern to me at first, but I soon realized I had very little to worry about. Adriana, her mom, her sister, and many of her friends all spoke reasonable English. My real problem was learning Italian. I'm not sure if it was the pronunciation, the inflection, or  the verb conjugations, but I just couldn't do it. I tried and tried to learn as much as I could, but I ended up only learning the basics. My new-found love and appreciation for Italian pop music managed to help me a bit (if you're looking for something good I suggest "Roma-Bangkok" by Baby K or "Maria Salvador" by J-Ax), but I still struggled.
Adriana's best friend, Simona also did the exchange, but she went to Belgium. Initially she asked to live in America, but when she learned she would be staying in Missouri, she politely declined and chose Belgium instead. She was away while Adriana was in America, and when I got to Sicily, Simona returned several days later with her host sister, Celestine. The four of us cliqued immediately.
Celestine and I bonded over how different Sicily is compared to our own countries because everything is so homogenous. The girls are all thin, and tan; the boys are all short, have manicured eyebrows, and wear jorts. If you go up to any boy in Sciacca, Sicily and ask him who his favorite musician is, I can guarantee that he will say Eminem. "Oh, yes I love Eminem. He's the best! Slim Shady is excellent!" The best trait about everyone was that every single person was nice. They all wanted to talk to me about America. They love America. A lot.
Sciacca, Sicily (pronounced like shaka) is my favorite city in the world. It's big, but not too big. Nearly everyone lives in apartments surrounding the downtown, and everyone knows each other. It's home to a number of famous ceramic pottery studios, as well as some of the most beautiful beaches I've ever seen. The street food is amazing; you truly have not lived until you've tried arancini, crocchetta, or panelle. There's an art installation of at least 100 colorful umbrellas that hang over some of the streets to grant everyone a rare glimpse of shade from the relentless sun. Above another street hang the flags of most of the countries of the world. It's really gorgeous. The first time I met any English-speaker they would always ask me the same series of questions: "Do you like Sciacca? What is your favorite thing about Sicily? It's beautiful, no?"
I thought that spending everyday for two consecutive months with one person might cause me to go insane, but it really was fine. Of course there were a few days when we were sick of each other (mostly towards the middle of the Italian-leg of our trip), but we got over that quickly. I really was super lucky. My friend, Kirsten, did the same exchange, also to Italy, but had a less than stellar time with a host-sister who really seemed like she wasn't interested in the program at all. I was extremely fortunate to end up with a new family who treated me like I was one of their own. I met more than two dozen of Adriana's cousins (20 on her mom's side, and 8 on her dad's) who all asked if they could visit me in America. My favorite moment with her family was when her cousin, Mauro, promised to be my boyfriend in exchange for an unlocked American iPhone.
I'm so thankful for all of the amazing people I met on my exchange and through other Rotary-related events. Now I have friends in almost ten different countries, and open invites to stay at any of their homes. Guess who's going to save major cash by not booking hotel rooms? Even after my exchange ended, Rotary allowed me to meet new people. In October I was invited to attend UN day, a Rotary-sponsored event where I (and 600 other exchange students and Interact Club members) listened to discussions on women's rights, world hunger, and the eradication of polio.
Participating in this exchange was the best decision I could have ever made. I had the time of my life while constantly seeing new places and meeting new people. It was an eye-opening way of seeing how other people truly live. It wasn't like I was a tourist watching from the outside; I got to see the ins and outs of daily Italian life, and I learned what it really means to be Italian (I also learned that it's possible to squeeze eight people into a car meant to seat four). This isn't something you can learn just from visiting a city for a day-trip.
Just like Lizzie McGuire, I had a life changing experience in Italy. I didn't perform in front of thousands of screaming fans packed into the Roman Colosseum, but I did sing karaoke with Celestine and Adriana once. I didn't get a personal clothing fitting from a world-famous fashion designer, but I did do plenty of shopping. I didn't meet my doppelganger, but I did meet some of my best friends. I think Lizzie would be proud.