Winter Trends of 2014-2015
As the cold days are rolling in, everyone is scrambling to find warm but fashionable attire in order to last the winter here in New Jersey. It's a struggle to stay warm and look good at the same time; for most people, it's not ideal to look like a huge marshmallow, although it is very comfortable. This winter, booties, oversized sweaters, funky socks and scarves, and bold makeup looks are back.
Turtlenecks are also making their way back to everyone's favorites. Usually, when your mom pulls out her old turtleneck sweaters from the back of the closet, a natural reaction for almost any teenager would be toss them to the side and never look at them again. This winter, grab them quick because turtlenecks are back! Sweaters with high necklines will definitely keep you warm and are extremely cozy; make sure to pair them with a chunky necklace or statement earrings to dress them up. (Style tip: If you're someone who gets cold easily, turtlenecks are easy to layer with! Just add a tank or a fitted long sleeve shirt under the sweater).
For a simple outfit for school, throw on an oversized sweater with some skinny jeans or boyfriend jeans. Add a scarf, as well as some comfy winter socks that match your scarf and booties. Fun, colored socks with a print will get more looks, especially up against a simpler colored pant. Want to get a little fancier? Try the same pullover sweater over a high wasted skirt with some colored tights or knee-high socks and booties, or simple heels! (Style tip: Leave the tops of your socks showing over your tights or jeans to add a little extra.)
Daytime looks for bold makeup can be a little tricky, but they can be done if you follow a few simple rules. If you go bold on the eyes, go simple on the lips. If you like bold lips, go simple on the eyes. Keep in mind: too much make up during the day can be a little over the top. Do a light eye shadow with bold lashes and then apply a dark lipstick to top off the bold look. After the sun goes down, it's easy to apply darker eye shadow such as a smokey eye, as well as reapplying your dark lipstick for a super bold nighttime look! (Style tip: Always remember to reapply lipstick through out the day! It starts to wear off the inner sides of your lips over time. Reapply to keep it fresh! Also, before applying the lipstick make sure your lips are dry and Chapstick free. That will make the lipstick smear and look blotchy).
Top 5 Make Up Looks for Winter 2014:
-Bold lipstick colors
-Winged eyeliner
-High contoured cheeks
-Deep nail colors (plum, navy, hunter green, gray)
-Strong, neatly shaped eyebrows
What to add to your holiday list this year:
-Booties (H&M or Charlotte Russe)
-Colorful wool socks or high knee socks (Urban Outfitters)
-Turtleneck sweaters (H&M)
-Bold Lipsticks (Mac Cosmetics)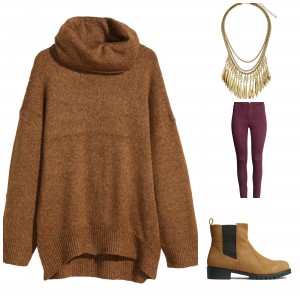 Sweater H&M | Necklace H&M | Booties H&M | Jeans H&M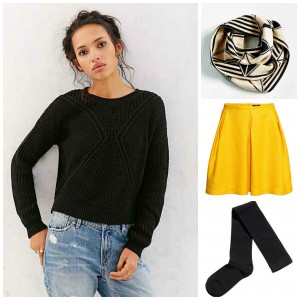 Sweater Urban Outfitters | Scarf Urban Outfitters | Skirt H&M | Socks H&M
http://www.urbanoutfitters.com/urban/index.jsp?cm_sp=SITE_HEADER-_-HOME-_-index.jsp