Getting to Know You: Dr. Cascone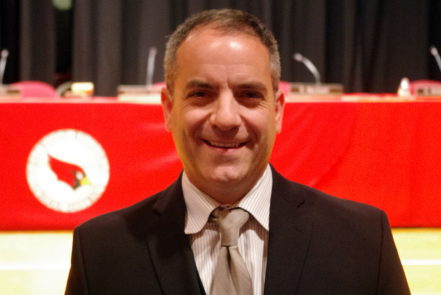 The principal's office is a place that strikes fear in the hearts of students everywhere, but for Dr. J. Scott Cascone, it is home. Cascone, the new principal of Westwood Regional Jr./Sr. High School, has been a part of the district since 2006, holding the positions of K-12 Supervisor of World Languages and ESL and Director of Personnel. This large promotion comes on the heels of Cascone's term as interim principal for the closing months of last school year. It's only been a few months that Cascone has officially held the position and as expected, it has altered every aspect of life for him.
With not one stone left unturned, the changes start with the first moments of Cascone's day. As an avid family man, time with his three daughters is of great importance to Cascone, but unfortunately one alteration to his schedule has been the loss of time with them in the mornings: "Usually when I leave for work in the morning they are still asleep so I miss out on that precious time with them. That's been hard for me."
After arriving at work, Cascone encounters possibly the greatest change, "I really try to be out and visible to greet students and parents. I want to be a smiling face." Previously working in the Board of Ed office, there were days where Cascone would be confined to his desk. Now he makes it a priority to have meaningful interactions with the students. Cascone said, "Having an investment in my student's lives has been a recharge and has reconnected me to why I got into this profession." He also tries to make it to as many Westwood sports games or school events as possible to show his support.
Though the school year is still young, Cascone has already been established as a student-centered principal. Assistant Principal Josh Cogdill said, "Dr. Cascone is a very caring and understanding guy. The students' opinions and feelings are very important to him and he uses their feedback to help figure out how we can make this school even better. He really wants to make sure that our kids get to where they want to be and that as their administration, we can help them get there."
So where does this dedication to the students come from? Cascone explains his personal philosophy: "I truly have faith in people in spite of so many apparent challenges. I never lose faith, especially in young people. Young people impress me so much with the workman-like quality that they have. They are committed and they take care of their responsibilities. Seeing how much they juggle and the things they go through is what drives me to do my job as best as I can for them."
Cascone's management style has also experienced a transformation though his ideals have remained the same. "Times have changed since I first got into education but people are still the same so I still remain focused on bringing out the best in everyone. I used to not have anyone reporting directly to me but now I do and I try to focus not on being the boss, but rather on collaboration and leading by example. There is so much that I want to do and only so much time so I really have to prioritize and make a long-term plan," he said.
Cogdill corroborated this assertion: "He is a very hardworking and understanding guy. He wants to do the best job he can which is why he comes into work every day like it's game day and he is ready to win. Since he always puts his best foot forward he expects the same from everyone else."
Cascone is the first to admit that he has high expectations for the school but only because he has seen the things the students and staff are capable of. Having a history with the district, Cascone has the unique opportunity to get right into the thick of things and skip over the getting-to-know-you phase that comes with most new jobs. Knowing the people he is leading is a great advantage and it shows in the way people respond to him. English teacher Eileen Nagle said, "Dr. Cascone is a good leader who shows trust in his teachers but still provides the guidance that they need.   I think the students and teachers are all responding really well to him."
When he is not behind the desk, Cascone takes the time to do what is most important to him, which includes getting together with family and friends in a low-key setting, catching up on professional soccer, and being an active member of his family's church. "I love to just be in the company of good people, people that I care about."