Big Blue Embarrassment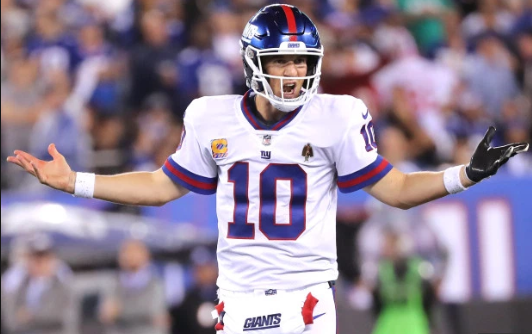 Last season, New England Patriots' quarterback Tom Brady was the NFL's most valuable player and led the league in passing at 40 years old.
Two weeks ago, New Orleans Saints' quarterback Drew Brees surpassed Peyton Manning as the NFL's all-time leading passer at 39 years old.
Last Thursday, New York Giants' quarterback Eli Manning, who has been the hard hat and lunch pail, "do your job" face of the franchise for 14 seasons, proved in a blowout home loss to the division rival Philadelphia Eagles that he can no longer put his team in a winning, or even contending, position.
Manning, as a person, player, and teammate, has been everything the Giants could ask for in their starting quarterback – a point-no-fingers, make-no-excuses, determined leader who has always played the game the right way.
But for Giants fans, your play on the field eventually outweighs your character.
The play-calling may be broken.
The offensive line may be broken.
The relationship between Giants owner John Mara and star wideout Odell Beckham Jr.  may be broken, as Mara ripped into the receiver, saying that he wants Beckham to "create headlines by his play on the field as opposed to what he says and what he does off the field."
Yes, the team is broken and mired in controversy.
Yet, the giant problem remains Eli.
He is a 37-year-old hollow shell of his former gunslinging two time Super Bowl MVP self, a pocket-grounded quarterback lost in a league that now appreciates mobile quarterbacks like Aaron Rodgers, Patrick Mahomes, and Cam Newton.
Even the 41-year-old Brady can get out of the pocket quicksand once and awhile.
Although the Giants do not have the worst offense in the league (ranked 24th in total offense), no other team has been so easy to deceive on that side of the ball. An offense with all-world skill players such as Beckham and running back Saquon Barkley should not look like a dumpster fire.
But still, the fish rots from the head.
Manning almost never attempts to throw the ball farther than 20 yards, which completely robs Beckham of his ability to take the top off the defense and utilize his unique explosiveness down the field. Beckham's average yards per reception rate has fallen every year since 2016, from 16.6 to 11.2 this year.
New York has become checkdown city, and as cliche as that might sound, even head coach Pat Shurmur appeared to be yelling on the sidelines for Manning to "throw the ball."
Because Manning is so immobile, defenses do not have to worry about having a linebacker spy on him, and can instead blitz through the permeable offensive line with ease.
There is also no balance between passing and running the ball. Barkley is a generational talent and the lone bright spot on the offense – more boom than bust. He has only rushed an average of 14 times per game. Manning has passed an average of 38 times per game. Shurmur's heavy reliance on an archaic quarterback is a disservice to the transcendent Barkley and the progress of the franchise as a whole.
So how can the Giants begin to stray away from their backyard football offense? Just ground and pound the ball, according to Barkley: "That's something where I step in, where the offensive line steps in, and that's something that we've got to take personal. When we see a team playing Cover 2 and playing soft zone, that has to be disrespectful to us and that's something we are really aware of and we hope to solve that problem really soon."
The finger-pointing, the primadonna wide receiver and ownership infighting, and, most of all, embarassing play, does and cannot fly for Big Blue.
Six weeks have come and gone, and so has New York's season.