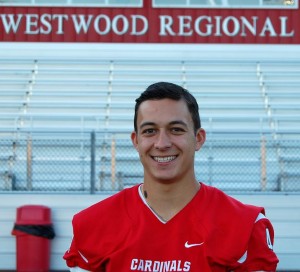 Nolan Borgersen, senior at Westwood Regional Jr. /Sr. High School, two-year captain on the varsity football team, never thought he would get where he is today. He is a wide receiver and defensive back. He has received awards and accolades, which include: New Jersey Single Season State Record for Touchdowns and Yards, New Jersey Career Yards and Catches, Athlete of the week, and First Team All American.
Borgersen started playing football when he was in fourth grade. In his early years of football, he claimed that he wasn't any good. "It wasn't until eighth grade when I started to become better and people started to notice I could make something out of it," says Borgersen.
With a high school and football career full of many efforts, Borgersen says, "One of my greatest accomplishments was definitely winning the state championship with all my friends last year. I put a lot into training for football, we practice eight months out of the year for twelve games."
Story continues below advertisement
Borgersen claims he's constantly finding ways to make himself better. One thing he does to improve his performance includes watching films, specifically of other teams competing. Watching other teams playing has been a big help to him. He also responds well to his coach's instructions. With his training this year, Borgersen hopes to finish out the season undefeated and be the first team in Westwood history to win state champions two years in a row. Fortunately, Borgersen's hopes were fulfilled when Westwood High School beat Waldwick/Midland Park in the North 1 Group 2 State Championships.
Borgersen's coaches and teammates have had a lot of impact on him when it comes to football. "They're the reason I do what I do," he says. "My coaches have taught me everything and got me where I am today; it's all on them."
Kris Izzo, offensive line coach for the Westwood Cardinals football team says, "It is great coaching a player like Nolan who is truly an exceptional athlete and a great person." Izzo explains that Borgersen always gives 110 percent no matter what he is doing. "Nolan has a tremendous work ethic, Nolan understands by making himself better each and every day, he, in turn, is making the entire team better."
Izzo explained that Borgersen is a great time leader. Named captain his junior year, he presents exceptional leadership. "Having Nolan out there on the field, offensively and defensively, is like having a coach on the field with the players all the time," Izzo says. He is also seen working with younger receivers on the daily.
Borgersen's biggest motivations are making his family and the community proud. Most importantly, he wants to make his mother proud. He states that she is his role model and a figure he has to look up to. "She has helped me so much and has been under so much stress with me going away to school." says Borgeren.
Like most seniors, Nolan is preparing to graduate, but not in June. Borgersen will be leaving his hometown January 9 for Boston College on a full scholarship. Starting college sooner than most, he plans to get acclimated and play football early on for Boston College. Borgersen's choice between Harvard University and Boston College was predisposed by his personal view of great football, good size and its highly regarded business school reputation. "I wish Nolan all the best next year at Boston College," Izzo says. "I wish him all the success in the world."
Borgersen says he wants to be happy and have a good college experience, while growing as a student and an athlete. Although he is looking forward to playing football at BC and becoming part of a new family, he mainly wants to focus on the present, and not be engrossed in the future. "I don't want to focus on college while I'm here at Westwood; I'm just going to take in the last couple months of high school." Borgersen says, hoping to make his senior year last with a football season coming to a close and graduation just around the corner.