The Hate You Give Review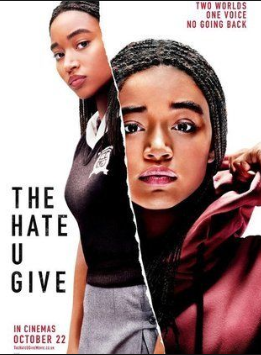 Those who know me well know that I have a hard time sitting through an entire movie. However, The Hate You Give held my attention for the full two hours and 13 minutes.
The Hate You Give is a 2018 Drama/Thriller movie based on the book by Angie Thomas. The story is about a black teenager, Khalil, who was shot to death by a white cop: the cop thought he saw a weapon but Khalil had reached inside the car for his hairbrush. Starr, Khalil's friend and the only witness of Khalil's death, tries to find her voice and stand up for her friend.
In 2019, minorities are still targeted by majorities. The Hate You Give does a great job displaying this injustice. The film focuses on racism and highlights the difference in treatment between white and black people. In the film, Starr's community stages multiple protests where they face unfair treatment from cops. Racism is also shown at Starr's school. Starr and her siblings attend an expensive, all white prep school, where Starr is challenged to find her place. She becomes a new version of herself, Starr 2.0, so her white friends will not think she is "ghetto." The Hate You Give is bringing awareness to these injustices which is the first step in solving these issues.
The story is shown from Starr's perspective. This helps develop the meaning of the film better than from the viewpoint of another character. Firstly, we get to understand Starr's view of life; she has a good perspective and has a strong sense of reality. This drives one of the big messages in this film: teenagers are not completely clueless or irresponsible. This contradicts the idea of teenagers not knowing much and how their elders know better.
Another way Starr's perspective benefits the film is how we get a feel for the viewpoint of a younger generation. Starr is in an interracial relationship and when she introduces her white boyfriend to her dad, he has an issue because he is white. This film shows how the younger generations are more open to accepting everybody and older generations are more judgemental and racist.
The actors in this film did an amazing job. They made the viewer feel connected to the characters and their issues. This movie is rated PG-13 with a ⅘ on Common Sense Media. I think this film is appropriate for anyone 12 and older. It is a great film for young teens and their parents. I would definitely recommend this movie and I cannot wait to see another movie by this producer.