Are Students Spending Too Much On Prom?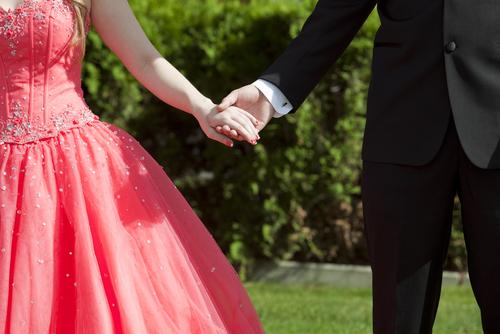 One of the most anticipated and expensive events in high school is the American-made, renowned prom. From picking out boutonnières and corsages to finding the perfect dress or tux, prom is a social event that will mark the last few memories shared between you and your high school peers before graduation.
Aside from the standard diets and countless gym trips dedicated solely to prom preparation, there are several other time-consuming and pricy activities involved in the prom preparation process. The most typical and challenging prom expense is finding the perfect dress. For many girls, their prom dress is second in significance to their wedding dress, which pretty much means it's a big deal.
Taking into consideration how much significance teenage girls give to their prom dresses, companies tend to overcharge for them. In other words, these companies set ridiculously high prices for every single dress in their designated "prom" section. The worst part is, many girls are more than willing to pay the high retail prices for prom dresses. This can cause retailers to believe that raising prices on prom dresses is accepted by consumers. The average price of a quality prom dress ranges anywhere from $190 to $550, sometimes even more.
Amongst all of the expenses that come with prom, the prom dress is likely to be the most costly, but it certainly should not be your last concern when it comes to monetary encumbrances related to prom. After interviewing nine seniors attending Westwood High School's prom this year, I was able to determine that girls not only have to buy their dresses, but they also have to get their hair done ($60-100), their makeup done ($50-75), both their finger and toe nails done ($35-60), and buy shoes($50-100), jewelry (depends on what they are wearing), pay for their transportation to prom($70-150), purchase their ticket ($90-100), buy accessories—like clutches—($30-60), and get a boutonnière for their date ($12-30). Boys on the other hand have to pay for their tuxes (depends on the quality of the tux), their shoes ($75-150), their shirts ($30-50), their ties ($50-60), their vests ($50-100), their transportation ($70-150), their ticket ($90-100), their haircuts ($15-20), and a corsage for their prom date ($30-50).
The costs of all of these individual prom related items clearly add up. Not all people can afford the toll the prom takes on their wallet, especially in these economically tough times. According to The Denver Post, in the United States, the average family spends $1,078 on prom.
This year, I will be attending Manalapan High School's prom along with Westwood's, which means the $1,078 average that people spend on prom is beginning to seem more and more realistic to me. For someone who has never worked and will probably never wear either of her dresses again, that's a lot to spend on two nights. Dakota Krokus, senior at Westwood, is also attending two proms this year. "Everything prom related individually is really expensive," he said. "It's a lot to pay for one night, especially doubled," he added.
One prom, let alone two, is more than enough of a financial burden, but all of the nine Westwood seniors I interviewed stated that, regardless of the prices, they are looking forward to prom, and said that ultimately prom is worth the cost.
Prom is no longer the cliché school gymnasium event with cheesy decorations and a creepy photographer that takes that classic "prom pose" picture of you and your date. A prom is actually a formal event that typically takes place in a fancy hotel with an amazing DJ, delicious food, and your classmates whom you've never seen looking as amazing as they do that night—all of which, comes at a cost.