Spirit Week: Color Day Recap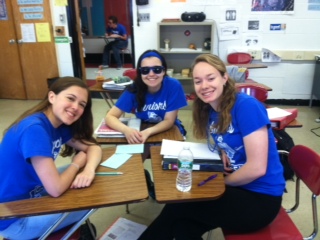 Thursday, April 10, 2014 was the fourth day of spirit week at Westwood High School and it was Color Day.  Each grade was assigned a different color and students from that grade wore that specific color to school.  The colors and grades go as followed: 8th grade is orange, Freshmen are yellow, Sophomores are green, Juniors are blue, and Seniors are red.
Many students flaunted their creativity through the different outfits that they wore.  Some students were seen wearing customized t-shirts, hats, headbands, etc.  Teachers are also allowed to participate in Color Day.  They are allowed to pick the grade that they want to give their points to.  Most teachers give the points to the grade that they teach.