S.O.S.: SZA releases new album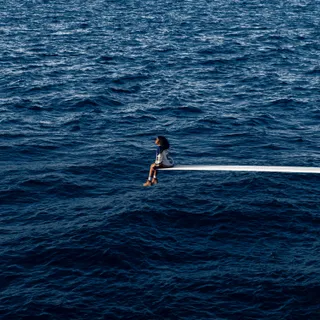 Over five years after her debut album, "CTRL," SZA recently announced her sophomore album, "S.O.S," shocking fans across the world after months of anticipation and teasing. 
In interviews within the past year, SZA has been mentioning a new album in the works that fans will be able to enjoy soon, once even saying it would be released in the summer of 2022. However, as the season passed, fans still stood strong in their hope for new music and were pleasantly surprised to see her post on Instagram on December 1. 
The post included the album cover and then a zoomed picture of the cover, receiving over 3.5 million likes and almost 36,000 comments, with commenters such as Kylie Jenner, Chloe Bailey, and Lizzo. 
In December, SZA also joined KeKe Palmer on Saturday Night Live,  where the artist debuted a new track, "Blind," and further advertised her recent second collaboration with Crocs which has a jean material instead of the normal rubber design.
One of the skits from that SNL included an original song fans have called "It's Cuffing Season," where SZA and other SNL members sing about wanting a "big boy." The song blew up on TikTok, with thousands of people begging the artist to drop the song on streaming platforms and hundreds of videos receiving hundreds of thousands of likes. Some people who are not fans of SZA believed the song from SNL was an actual song on her album. 
The album itself has reached impressive heights since its release on December 9. The album is number 1 on the Apple Music Album Charts and the iTunes chart, worldwide. By the week's end, many are speculating multiple songs will top the Billboard 200 Charts. Her debut album "Ctrl" reached number 3 on the Billboard 200 and sat on the charts for 286 consecutive weeks.
The album has multiple features with a diverse set of artists ranging from Phoebe Bridgers to Travis Scott, who has made multiple songs with her, including one of her most popular songs, "Love Galore." 
Metacritic, a popular site that gives reviews on music, movies, books, and videogames, rated the new album 91/100 and a 8.7/10 user score based on over 200 reviews. SZA's album is receiving praise for its versatility, something many people previously criticized the artist for lacking. Songs like "Blind, Conceited, and Ghost in the Machine," sonically, are similar to the style of "Ctrl." However, songs such as "Nobody Gets Me" and "F2F" are completely different from her past albums, showing the versatility many critics were wishing to see from the artist. 
Artists such as Lizzo, who is not featured in the album, have also given praise to the album. Lizzo went on Instagram to show her live reaction to the song, "Nobody Gets Me," where she began to cry becoming a popular meme when people discuss the album. 
Other critics and fans wanted to see more growth from SZA lyrically, with some believing the lyrics lacked luster and depth overall compared to previous projects. 
SZA has also stated that this may be the last album of her music career because of the mental and physical stress the industry and her vocals have had on her. Although it has not been confirmed and she has a past of changing her mind often, it is always a possibility many loyal fans have feared since her release of Ctrl. 
However, within weeks between the announcement and release, SZA reignited the fan base that was at its peak in 2017 with Ctrl, cementing her relevance in pop culture and has begun moving from the girl who wrote "Love Galore" to a more mainstream respected artist. 
SZA will be going on tour with dates in major cities in America throughout February and March.