Things to Do: Dessert Tour of New York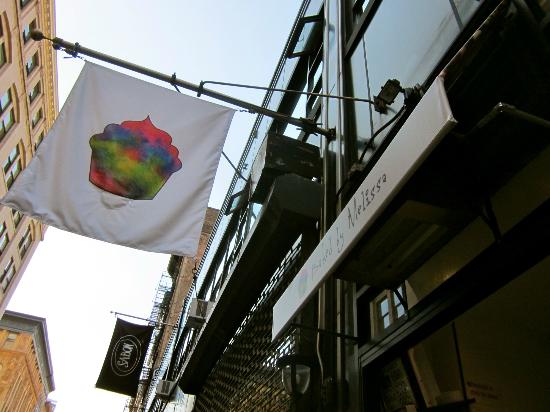 With summer so close you can almost taste it, it's time to start planning some fresh activities to do with friends. Looking for a change from the usual Six Flags, beach, and Monster Mini Golf? How about a dessert tour of Lower NYC? All of these locations are within walking distance of each other and you will travel through beautiful neighborhoods of the city you probably never knew existed. Start at Union Square and make your way to these six locations. Since you are walking you'll even burn off all those delicious treats!
Baked by Melissa (7 E. 14th Street btwn University Place & 5th Ave) – Started in 2009, Baked by Melissa specializes in mini, bite-size cupcakes in dozens of flavors including: Peanut Butter and Jelly, Chocolate Chip Pancake, and Cookie Dough. Each month features a new "Mini of the Month." This energy efficient bakery is paper free and ships nationwide.
Amorino (60 University Place btwn E 10th & E 11th St.) – For some of the best gelato, Amorino is the place. This franchise was started in Florence and this NYC location is the only one in America. The gelato is made fresh every day from all natural ingredients, and it shows. I highly recommend the mango flavor for a hot day.
Crumbs (E 8th St btwn 5th Ave and Broadway.) – The largest cupcake chain in America started on the Upper West Side in 2006. This bakery features the biggest cupcakes you could possibly want.
Molly's Cupcakes (228 Bleecker St. btwn 6th Ave and Carmine St.) – This location stands out as it is designed to look like a school bus from the outside. Inside is a replica of an elementary school classroom with desks as tables and a wooden. swing-set. The inspiration for the cupcakery's design was the owner's 3rd grade teacher, Molly, who always brought cupcakes into school for her students. Profits are donated to NYC schools. A special feature here is a build-your-own cupcake bar complete with a sprinkle station.
Milk and Cookies (19 Commerce St. btwn 7th Ave and Bedford St.) – As you walk down the street your nose will immediately pick up the smell of the 15 different fresh baked cookies that are constantly being replenished at Milk and Cookies. The freshest ingredients are used and they deliver for those late night cookie cravings. Try the salted caramel oat if you get the chance.
Magnolia (401 Bleecker St. btwn 11th Ave and Perry St.) – The original Magnolia location was established in 1996 by three women. Once Sex and the City's Carrie Bradshaw made it popular, new locations popped up around the city. The Red Velvet Cupcake is Magnolia's most famous treat and definitely lives up to expectations. But be prepared; there is always a huge line!