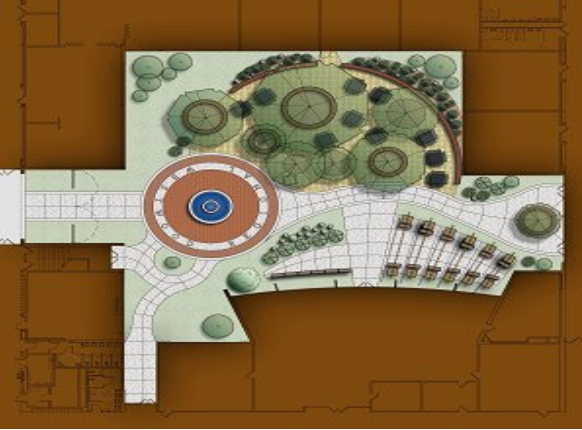 The Westwood Regional School District has officially approved a plan that will give the courtyard at the Westwood Regional Jr./Sr. High School a new design this upcoming school year.
The "Pathway to Excellence" Project will bring major changes to the outdoor area near the school's cafeteria and library where students are able to eat lunch or study during lunchtime and study halls.
Roberta Hanlon, President of the Board of Education, believes that while the new area will be beneficial to many, the purpose of the project is to create a positive environment for the students. "This will give another area for the students and staff to sit to read, eat, and relax. Hopefully it will give a sense of pride in the improvement of that area that all will enjoy."
The changes to the courtyard will include a brand new fountain with a granite inlay around it, as well as 18 benches, 10 tables, and several granite tables, which will include four benches each, according to Education Foundation President Brenda Cirillo.
"We figured it would be a district-wide project because all children from the district end up at the high school eventually," said Cirillo.
Nearly everything that is being installed has the ability to be engraved. Engravings can be purchased for the granite inlay around the fountain, which holds 50 small blocks and 20 large blocks. The money received from the engravings will allow the district to pay for the project, and the Education Foundation is not making any money from the project.
Engravings can be purchased by individuals, families, or even classes. "Different classes are buying engravings. For example, the class of 2011 bought one with its leftover money from Project Graduation," said Cirillo.
While many engravings are still available, the fountain has already been purchased. "The fountain engraving was purchased by the family of Sergeant Christopher Hrbek and it will be used to commemorate his life. It will be called the Sergeant Christopher Hrbek Memorial Fountain," said Cirillo.
As for the origins of the project, Hanlon says it was a team effort. "The project came from the former Superintendent Dr. Geoff Zoeller along with the Westwood/Washington Township Education Foundation," said Hanlon.
The construction for the project has already begun, as much of the grass in the courtyard has been removed. According to Cirillo, the plan is to have the fountain and pavers put in by the end of April. However, the process is lengthy because the granite must be sand blasted in order to have it engraved.
A very appealing part of the project is that the engravings are nearly endless due to the walkway that will be installed. "The walkway has the potential to be many pavers, allowing engravings to be sold for many years to come," said Cirillo.
To date, 10 of the 18 benches have been sold, while five of the 10 available tables have been sold. There will be a dedication to commemorate the new courtyard this upcoming fall.